BIPOC perspectives of Mindfulness
There are thousands of research papers on the effective application of Mindfulness training that has fuelled it's interest in recent years. Importantly, Western scientific evidence that supports mindfulness based interventions offers much hope for the medical industry particularly as it offers a drug free approach to the rise in mental health issues. However, there is much to understand about mindfulness in the context of diverse communities in the UK. This is something we feel and recognise at the Urban Mindfulness Foundation and have been compelled to challenge in the mindfulness world through our practice and work.
Some of what we explore through MBIT are BIPOC philosophies and principles that are deeply rooted in what me might describe as ancient social mindfulness practices held deeply in the bones of our ancestors and also practiced today.
Below are some videos and slides from MBIT and workshops that include some African philosophies and principles such as Ma'at, Sankofa, Ubuntu, Ubele and Umoja for example. All  provide compassionate wisdom and guidance critical for living in balance and flow with others and all things in nature. These are particularly relevant to the those that identify as being from the African Caribbean diaspora.
Such philosophies are some among many that BIPOC traditions practice through engaged and embodied awareness that recognises important relationships between the "ME" the "WE" and beyond.
---
Why does mindfulness matter to people of colour- click link below
---
If Mindfulness is innate then it must have existed in the first human civilisations. Where can we see mindfulness in other ancient indigenous civilised cultures and what did they call it? 
---
MAAT – The Original African Lady of Justice.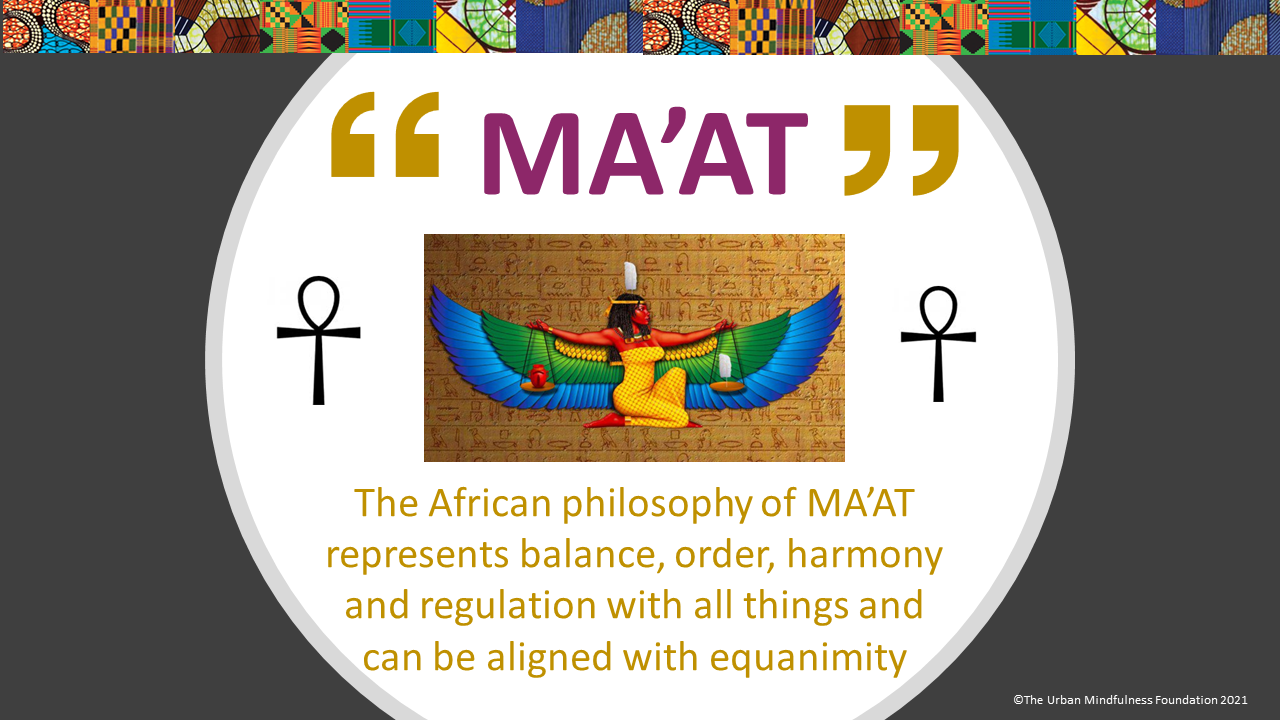 ---
Monthly BPOCC gatherings coming in 2022

Date/ Time: TBC
If you are interested and have the skills and life experience to lead a monthly affinity group, please contact us, as we would love to explore opportunities for collaboration with you.
---
Other Black Practitioners and advocates of mindfulness meditation
Below are some interesting videos of Black African British and American advocates of mindfulness:
Dr Shelly P Harrell and our Friends at MNPC
---
RIP Kobe Bryant who was a mindfulness Advocate
---
A Dear Friend of ours Professor Rhonda Magee
---
Russel Simmons – Co Founder of Def Jam for many years has led the way in meditation
---
The ever inspiring Dr Valerie Mason-John, (Vimalasara) is one of the most talented UK relevant black teachers from the Buddhist tradition we should all know    
---
George Mumford author of the mindful athlete is a respected elder in the field of mindfulness that has mastered his craft. 
We attended a Sounds True Event with presentations from Konda Mason and Larry Yang that changed everything for us as we listened to what they did at East Bay Meditation Centre and Spirit Rock we knew we needed something similar here in the UK.
---
More from Me on the importance of Mindfulness for People of colour as I look up to just a few of those I continue to learn from and be inspired by, even from a distance.