8 Week Mindfulness Based Living Course (MBLC)
Introductory Session  – Sat 18th May 2019, 10:30pm-1:00pm £5
8 Week Mindfulness Based Living Course – Saturday 1st June – Saturday 2oth July 2019, 10:30-1:00pm £75 (concessions available, please email us)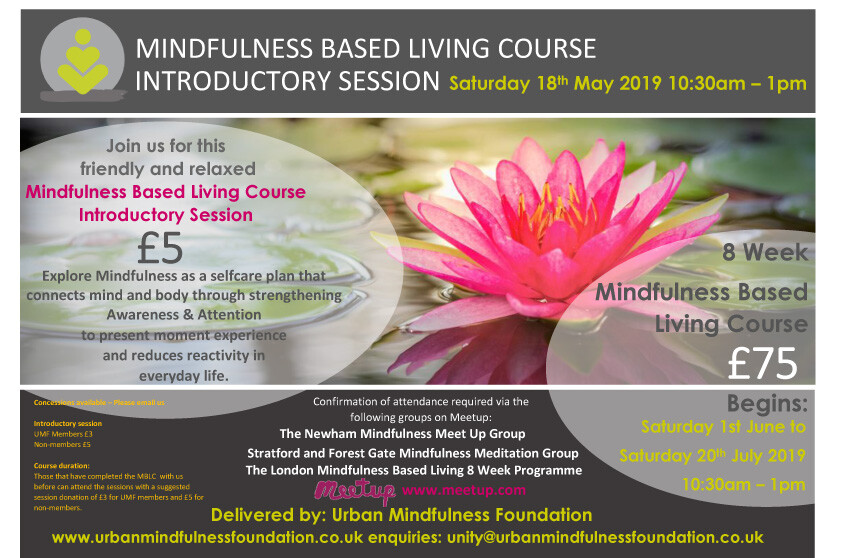 The Mindfulness Based Living Course is a weekly 2.5 hour Mindfulness Training Course.
The MBLC is one of only six courses listed on the UK Network for Mindfulness-Based Teachers Website. Designed by the Mindfulness Association an affiliate organisation of the UK Network. The Course is based on their level 1 Mindfulness Training programme.
The course is designed to provide a strong foundation and understanding of Mindfulness Practice.
The MBLC programme has been specifically designed to help anyone regardless of their psychological, physical or emotional situation. It is suitable for both those not suffering from any specific illness as well as those who may be experiencing difficulty.
The MBLC is one of the only available mindfulness courses not attached to any form of social stigma or illness. It is therefore considered most accessible to everyone both inside or outside of a medical or treatment based setting.
Please note, we do encourage attendance at one of our introductory sessions prior to booking this course. Firstly, the cost of the Introduction to Mindfulness Taster Session is deducted from the cost of the 8 week course using the discount coupon you receive when you book the Introductory Session. Secondly, it provides an opportunity to meet our Tutors and understand the commitment required to get the most out of the training. Thirdly, the Introduction to Mindfulness Taster Session provides the opportunity to discuss any specific requirements, needs or concerns about undertaking mindfulness training.
With this Course you also get!

1 x FREE Mindfulness retreat day and
The weekly themes are:
1 – Start Where We Are
2 – The Body as a Place to Stay Present
3 – Introducing Mindfulness Support
4 – Working with Distraction
5 – Exploring the Undercurrent
6 – Attitude of the Observer
7 – Self-acceptance
8 – A Mindfulness Based Life
To book a place on an 8 Week Mindfulness Based Living Course, please select the date of the course you would like to attend from the links below and follow to complete your booking and payment.
Please note: dates are subject to change where unavoidable
Important Information
The aim of the course is to help develop an in-depth personal experience of mindfulness and to build the foundations of a sustained personal practice, with a view to applying this in your life and perhaps also in your professional work. The course is primarily experiential but also educational and we would like to invite you to immerse yourself as best you can in the process.
Commitment, Bonuses and General Guidance
We would very much like to encourage you to attend all of the group sessions, if at all possible, and if you can't make it, please let us know beforehand. We also encourage you attend any of the drop in classes available. The drop in classes are free of charge whilst your course is running. You will also be eligible to attend one mindfulness retreat day free of charge.
You are invited to wear loose but warm and comfortable clothing for the course that is appropriate for gentle body movement and stretching. If you already use a meditation bench, stool, cushions or blanket, you are welcome to bring them along with you. There will also be a limited number of mats, cushions and chairs available.