Mindfulness Based Inclusion Training (MBIT) Retreat/ Workshop, Saturday 26th October 2019, 10am-5pm
Suggested donation £75 per person (Concessions available for Newham residents and UMF members. Email us)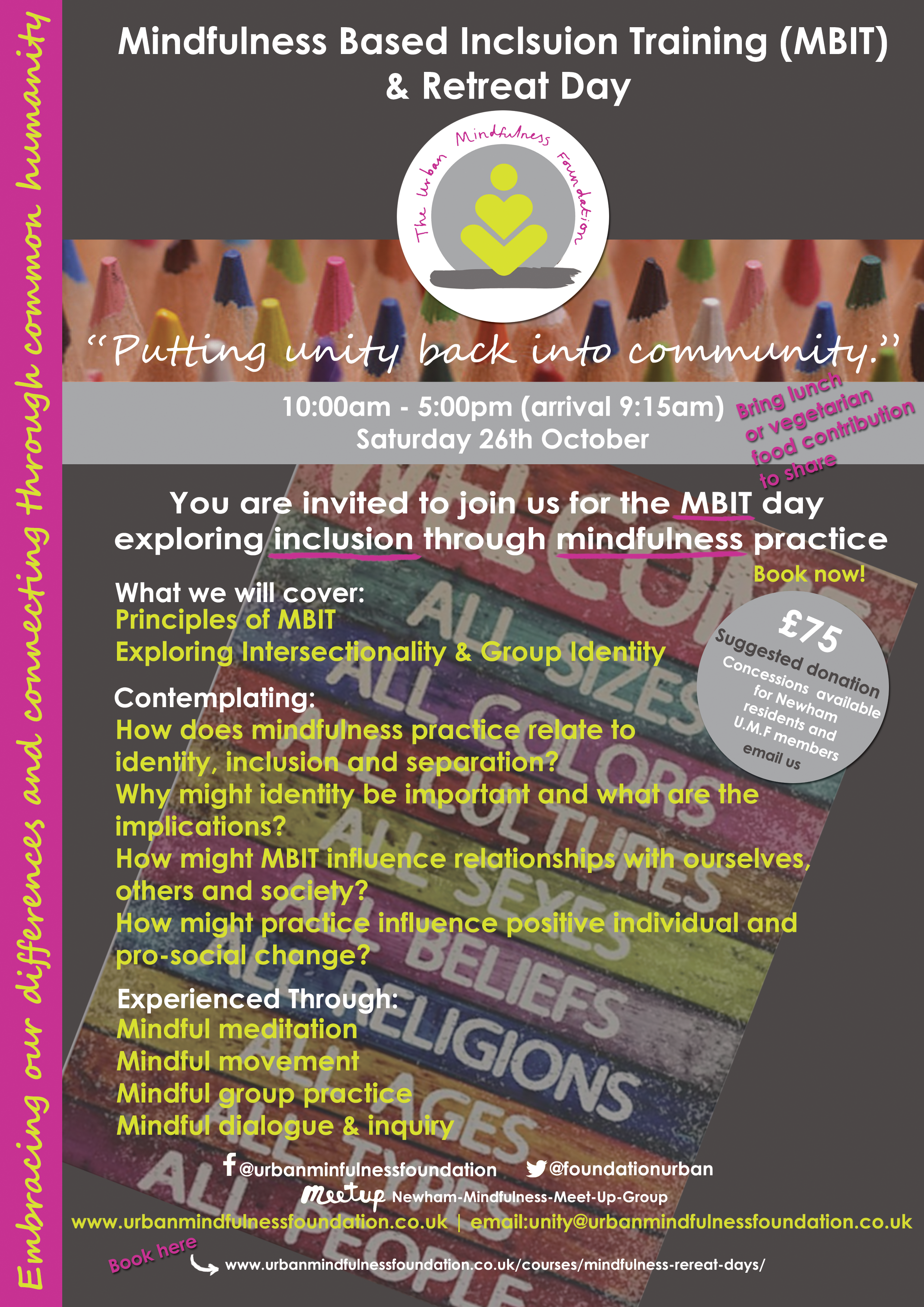 MBIT Retreat Day – Schedule
Registration 9:15 am -9.45 am
9.45 – Arrival Sit – Connecting with our safe place, heritage, ancestors as a way to sustain us.
Introductions and Group go-round
Session 1 – 10 am – 11.30
Guided Reflection
Principles of MBIT
---
Tea Break – 11.30  11.40 am
Session 2 – 11:45 – 1:15 pm  – Exploring Intersectionality and Group Identity
Affinity Group Exercise
Guided Reflection
---
Lunch Break – 1:15 – 1:55 pm Bring Lunch or vegetarian food contribution to share
Session 3 – 2 pm 3:30 pm – Cross pollination using the Principles of MBIT
Exploring how MBIT might help social change?
Guided Reflections
Meditation – MBIT – exploring the deeper layers of experience
---
Silent Tea Break – 3.30 pm – 3.40 pm
Session 4 – 3.45 – 5 pm – Putting What we have learned / shared into practice.
Meditation – Interpersonal Mindful Movement Practice
Meditation – Loving ourselves into Freedom
Dedication / Close- 
What three things can we take away with us about MBIT
Connecting with our common humanity and individual agency
A wish for the world and humanity


---
To book your Urban Mindfulness Retreat Day. Please select the date of the retreat you would like to attend from the links below and follow to complete your booking and payment.
Please Book Your Retreat via link below:
MBIT Retreat – 26th October 2019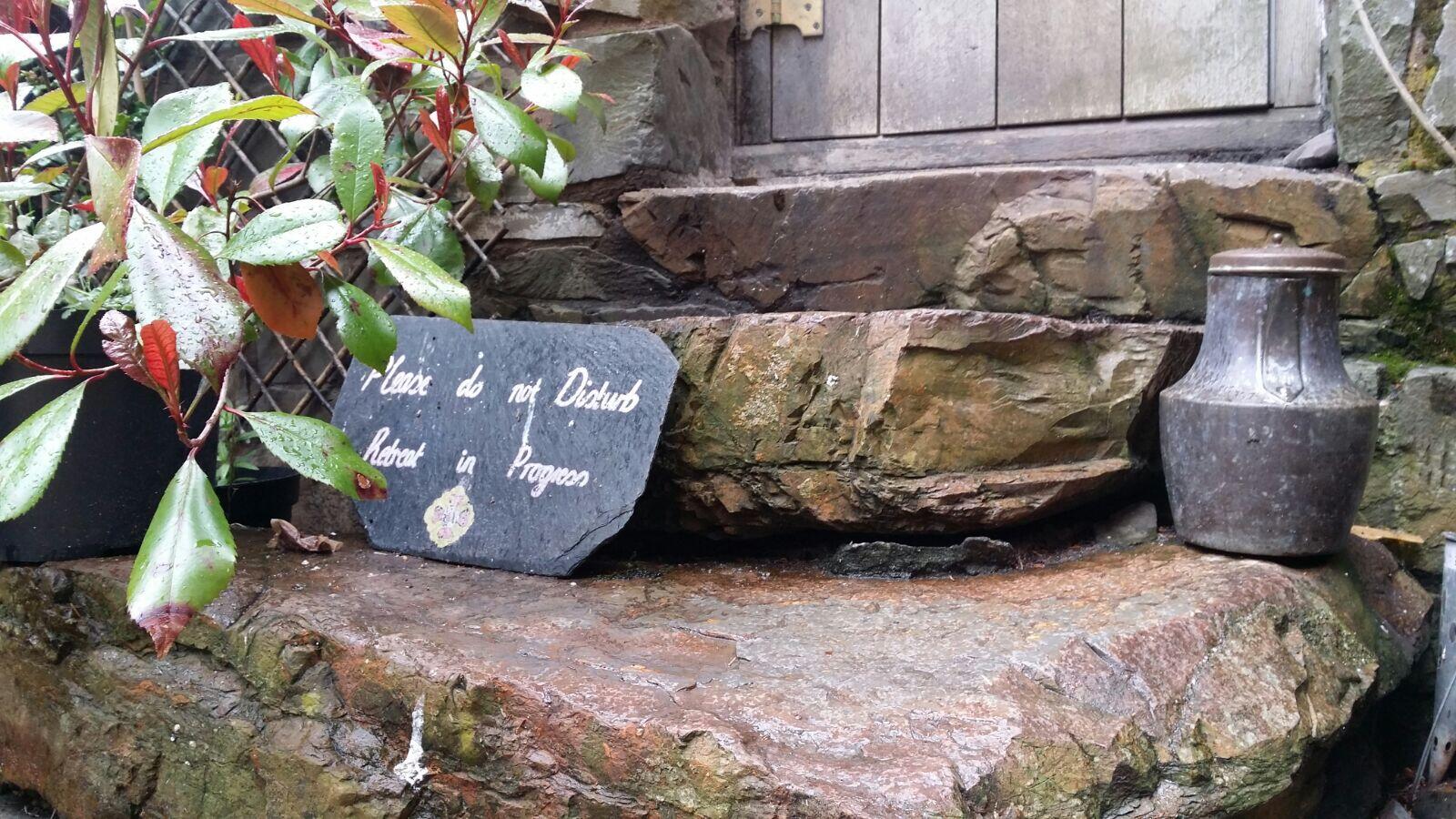 Practice Retreat Days and Teaching Retreats and Workshops
Our City Based Mindfulness Retreat Days offer you an opportunity to immerse yourself in the mindfulness practices and teachings we cover in the Mindfulness Based Inclusion Training (MBIT) and 8 Week Mindfulness Based Living Course (MBLC).
Occasionally, some of the day will be spent in silence or quiet contemplation so we can deepen our experience of mindfulness, and explore the impact of being ever more present whilst together as a group.
The retreat days offer an opportunity to spend time with ourselves and the group in a nourishing way. Letting go of our usual agendas and responsibilities. It is designed to be a nourishing time to be away from our diary of things to do, our mobile phone, our work and other demands of everyday city living.
The structure of the day will be spacious and laid out for you, as we seamlessly move from one practice to another taking away the need to make decisions about what we need to do next and allowing our mindfulness practice to flourish.